Invitation to Okayama – Land of Sunshine |晴れの国
Please see the video that Okayama's junior high school students are trying hard to appeal to their area. Okayama prefecture faces the Seto Inland Sea, It is well known for fine weather and mild climate, You can enjoy this throughout the year.
The title of this video is "Let's make rainbow" Let's make RAINBOW between the students in Okayama and YOU, You, each of you, reading this article and watching this video. Even they don't appeal in English at this moment, wishing they can see you in Okayama someday!
Lastly, Okayama is known as solid financial condition. It will be good business partner for you!




岡山の中学生が、自分の地域をアピールするために、一生懸命考えているビデオを御覧ください。 少子化が進み都会に人口が流出している中、今自分が持っている力で、懸命に地域の伝統を守ろうとしている姿が、微笑ましいです。
また個性的な岡山弁が素敵ですね。 このビデオのメッセージは"虹をかける"です。 岡山とこれを見ているあなたに。今は彼らは英語で上手にコミュニケーションできないかもしれませんが、いつかあなたに会うその日まで、努力してその日を街づつけているでしょう!
岡山県は、瀬戸内海に面しており、晴れが多く気候もマイルドで、年間を通じてとても住みやすい地域です。地震や災害が少なく安心して住むことができる地域です。 また日本三大庭園の一つである後楽園、美観地域である倉敷、有名な天空の城松山城など観光資源も盛り沢山です。
またフルーツの県としても知られており、桃、葡萄などの有数の産地です。 岡山の人は経済的に堅実であることで知られており、それは江戸時代の城主であった池田光政の影響であるとも言われています。 岡山に是非来てください!
--------------------------------------
Okayama's touristic asset

1. Korakuen,the Japanese style landscape garden, which is counted as one of the three great gardens of Japan and cultural heritage site for the world to treasure. You can enjoy breathtaking view in this garden, as well as serenity and harmony.You'll be surprised at its elaborate design.
*In 1687, Ikeda Tsunamasa, daimyo (feudal lord) ordered his vassal Tsuda Nagatada to begin construction of Okayama Korakuen. It was completed in 1700, and it has retained its original appearance from the Edo Period up to the present day, except for a few changes by various daimyo. Korakuen is one of the few Daimyo gardens in the provinces where historical change can be observed, thanks to the many Edo Period paintings and Ikeda Family records and documents left behind.
The garden was used as a place for entertaining important guests and also as a retreat for daimyo, although regular folk could also visit on certain days. In 1884, ownership was transferred to Okayama Prefecture and the garden was opened to the public. The garden suffered severe damage during the floods of 1934 and during World War II bombing in 1945, but has been restored based on Edo Period paintings and diagrams. In 1952, Korakuen Garden was designated as a Special Place of Scenic Beauty under the Law for the Protection of Cultural Properties, and is managed as a historical cultural asset to be passed to future generations.*
*http://www.okayama-korakuen.jp/english/history/index.html
2. Kurashiki Bikan historical Area
Kurashiki Bikan historical Area is national historical preservation district and he most picturesque merchants' quarter in Japan, It is nestled along the narrow canal and against the base of the low-lying hill trusugata-yama. Its townscape preserves history stretching from the Edo period. (1603-1868) when samurai were still commonplace, to the Meiji and Taisho period (1868-1926).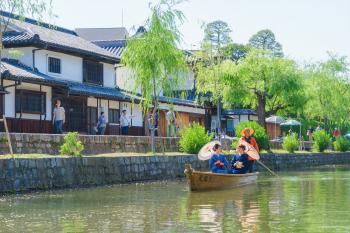 You can enjoy old good Edo Atmosphere as well as Commerce history.
https://www.kurashiki-tabi.jp/for/en/bikan.html
3. Bitchū Matsuyama Castle "A castle in the sky" - you can enjoy Majestic beauty!
Built in 1240, Bicchu Matsuyama Castle is both an Important Cultural Property of Japan and is counted among Japan's top 100 castles. The castle is located atop a mountain at an altitude of 430 m, making it the highest fortress with an existing castle tower in Japan. Visitors to the castle are treated to a spectacular sight, especially in the early mornings of fall and winter when the clouds spread out to form a "sea of clouds" around the castle. Also in fall, when the trees change color, the landscape becomes painted in a deep vermilion as if the castle walls were aflame, offering visitors a truly majestic sight.
https://www.japan-guide.com/e/e5777.html


Okayama is also known as a fruit prefecture, and it is one of the leading production areas such as peach and grape.
https://www.okayama-kanko.jp/feature/souvenir/01

Lastly, Okayama is known as solid financial condition. It will be good business partner for you!
日本の芸術・文化・伝統商品をプロモートならオフィスフローラ。
20年超の海外生活と外資系企業で培ってきたグローバル・コミュニケーションスキルにより、
日本の芸術、文化作品をプロモートし、活性化いたします。

また、商品開発・マーケティングを行っております。
1. ウェブライティング、現地取材、レポーターを通じ、海外プロモーション支援・海外マーケティング支援を行います。

2. 日本文化、芸術作品にかかわる通訳ガイドを行います。通訳案内士業務 (2018年一次全科目合格)
3. 日本芸術にかかわるイベントにおけるMCを行います。
4. ビジネスマナー研修(ダイバーシティ―研修)を行います。



お客様のニーズに合わせた相談、コンサルティングを行います。




原則として継続的なサポートとなりますが、ご要望により単発コンサルも行っています。
お問い合わせ、ご相談、お申し込みはこちらからどうぞ。